Video Production -
Shoot video in
Hokkaido
A vast land and Hokkaido rich in wonderful nature. A beautiful landscape that has no room for significance will definitely make video production more attractive.
Mount Hakodate
Mount Hakodate is a mountain at the western end of Hokkaido. At an altitude of 334m, it is also called "Mt. Gagyu".  There is an observatory on the top of Gotenyama, overlooking the city of Hakodate. The night view seen from Mt. Hakodate is especially famous and popular. The view from the top of Mt. Hakodate is a beautiful beauty. The contrast between the jet-black sea and the light of the town, the harbor, and the fishing fire of the fishing boat create a wonderful sight.
The Blue Pond Biei, Hokkaido
The "blue pond" in Shirokane, Biei-cho, Hokkaido, which is called "Platinum Blue Pond", "Biei Shirokane Blue Pond", etc., has a vivid blue color that makes you really doubt your eyes. Blue waters like turquoise and the fantastic scenery of dead trees take us to a new world. This beautiful pond is lit up for a limited time in winter. This blue pond was adopted in one of 15 types of wallpaper of Apple's "OS X Mountain Lion" released in July 2012, and was also used by Apple's mobile OS "iOS7" and "iOS8". Adopted for wallpaper.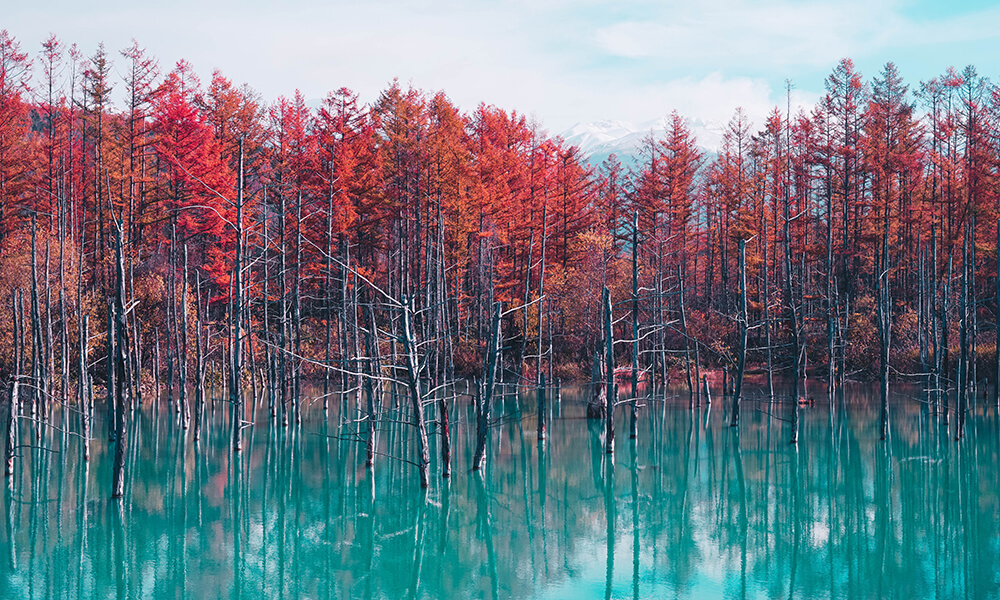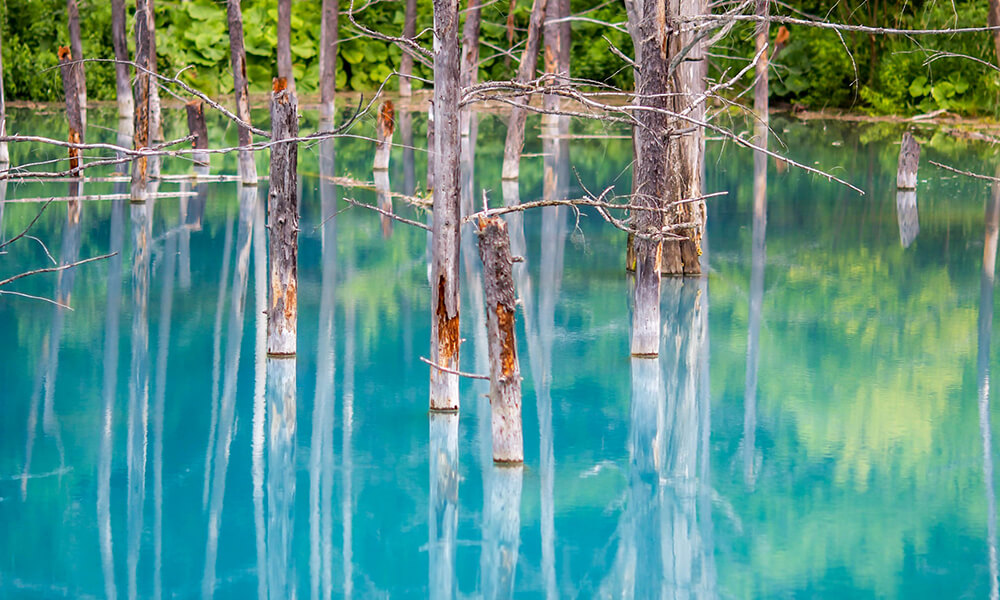 Farm Tomita Nakafurano, Hokkaido
Farm Tomita is Japan's largest lavender field, which is especially famous in Hokkaido in Furano. The area is approximately 90,000 tsubo, and it is well received for its many types of fields such as "Traditional Lavender Fields", "Colorful Fields of Forests", and "Bamboo Fields". There are also several cafes in the park, so there is almost no inconvenience. One of Hokkaido's vast natural surroundings, the beautiful purple flowers that spread across the surface, will captivate our hearts.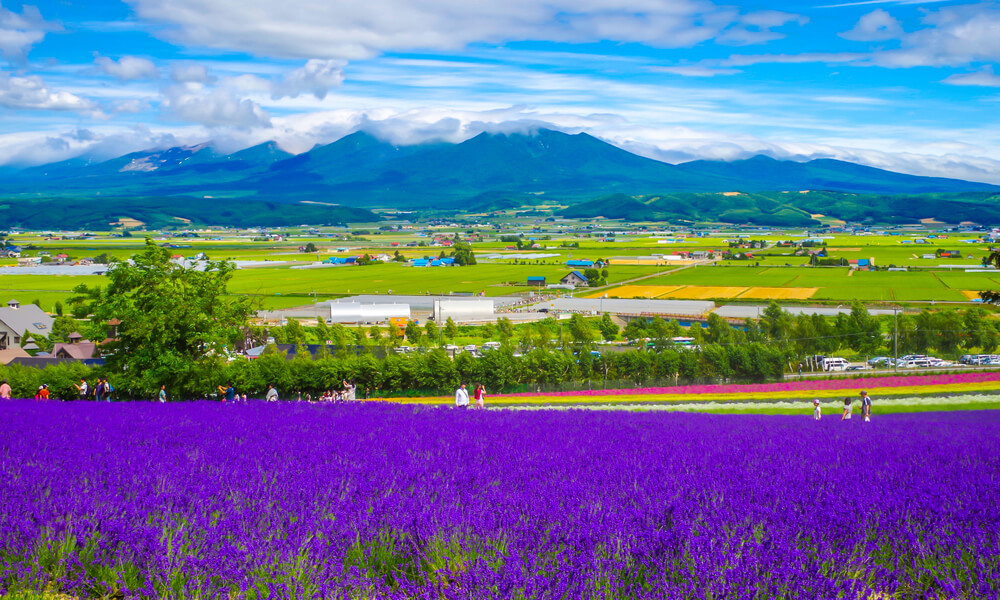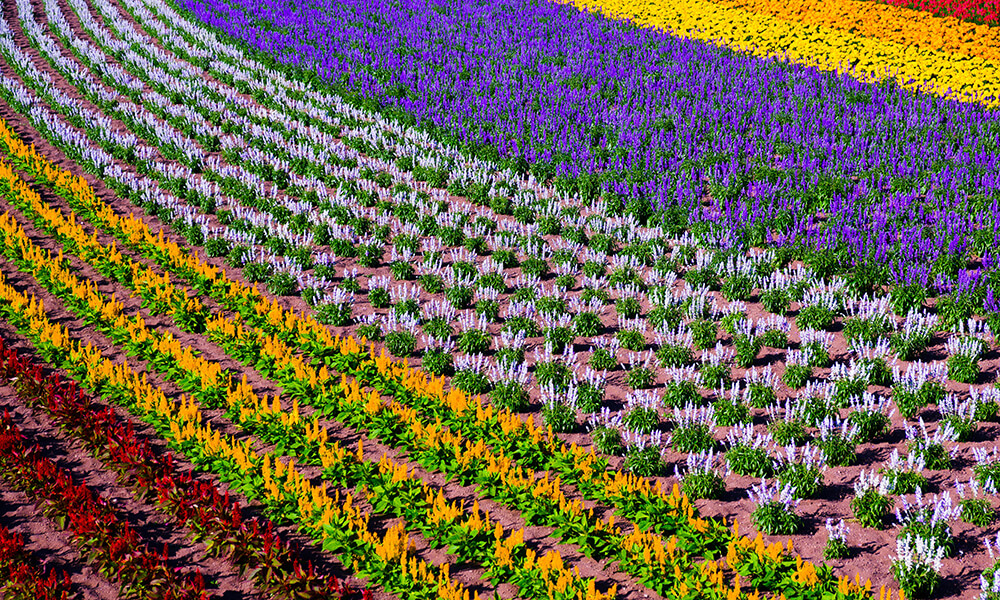 Goryokaku Hakodate
Goryokaku is a star-shaped fortress castle built by the Edo shogunate in the suburbs of Hakodate in the late 1886 Edo period. The "Goryoukaku Tower" towering right next to Goryokaku Park is recommended for sightseeing in Goryokaku. This Goryokaku Tower has a two-layer structure and is covered with glass, so you can see not only Hakodate City but also the Tsugaru Strait and the Shimokita Peninsula on a clear day. In winter, you can enjoy the beautiful scenery of winter with sparkling illumination on the castle buried in beautiful white snow as if you were bathed in pure white glow.

In Goryokaku, there are other facilities such as the Hakodate House, which was established by the Edo Shogunate as a base for managing remote areas and serving other countries. 
Music Box Hall Otaru
The music box hall in Otaru was built in 1905. A music box that looks like a fairy tale. From small children to adults, it is a shop that can be enjoyed by people of all ages. The melody played by the mainspring machine that matches the nostalgic cityscape of Otaru will soothe the heart of the listener. Inside the store, orange lamps are spread all over the place and the sparkling atmosphere is impressive. This glittering face will surely make your videos great.
Ainu Museum Wakakusa Town
Hokkaido was once full of Ainu people. Originally, it was a hunter-gatherer tribe who traded by bartering and had no Ainu language characters. She wore a traditional costume called "Amipu" and lived in a traditional house called "Chise". In addition, it is a traditional dance performed at festivals and banquets, and "Rimse (dance)" is famous for "upopo (song)". There are many other cultures. All of them are preserved at the Ainu Folk Museum in Wakakusa Town. The Ainu Museum is a location for STV's "Fever! Hot Sands".
Shiroi Koibito Park Sapporo
Popular sweets that represent Hokkaido souvenirs, "Shiroi Koibito". The white lover park in Sapporo is where you can see the Ishiya Confectionery factory, the manufacturer of the "white lover". "Shiroi Koibito", which has been loved for a long time, has a light and light mouthfeel and is a favorite snack for both men and women. In the park, you can experience popular candy making. The white lover park where you can make various sweets depending on the season is like getting into the world of Hansel and Gretel. A fairy tale white lover park is perfect for film production.